INTRODUCTION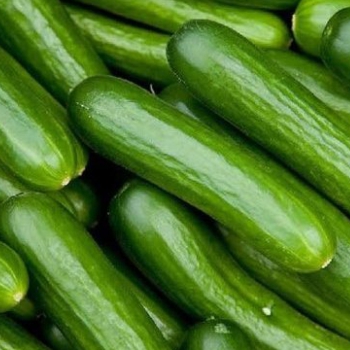 Cucumbers are species of the Cucurbitaceae family of plants.

It is a self-pollinated annual vegetable.
Cucumbers are South Asian natives.
The primary growth regions are Haryana, Madhya Pradesh, Karnataka, and Andhrapradesh.
REQUIREMENTS
Soil - Cucumber can be grown in all types of soil.
pH- 5.5-6.8.
Temperature- 18°C–24°C.
Rainfall- 120-150mm.
Climate- warm weather.
IRRIGATION
Cucumber plants need between 1 and 2 inches of water per week for optimum production and fruit quality.
Plants have a higher demand for moisture during pollination and fruit development.
CULTIVATION
Prepare the field at least one month before planting
Form raised beds of 120 cm in width at an interval of 30 cm and the laterals are placed at the center of each bed.
Apply well-decomposed animal manure.
Sow the seeds from June or January to April.
Sow 3-4 seeds/hill and cover with a thin layer of soil.
Irrigate the field right after sowing.