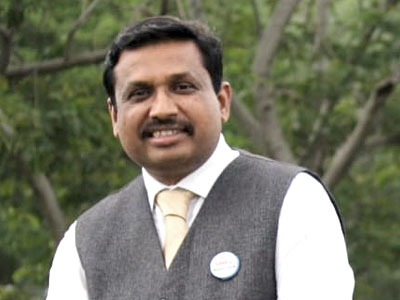 Green morning, I am PRAKASH MAGAR from Ahmednagar, Maharashtra. My experience with the Green Planet family till now was just adorable where these 15yrs went just can't recognize. When I started with the green planet company my financial background was not so good. I completed my technical diploma. I was working in the government transport department but I was not able to fulfill all my dreams so I left my job because I was not happy with my job and my income was also not good but I was having the willpower to achieve success in my life. One is never born great it is the willpower and action that make one great. At that time I was searching for the opportunity to be financially strong so that I have given my family a good life and career. Then in 2006, I heard about the green planet company and its mission to save mother earth.
When I studied deeply about the green planet mission, the mission was so big about saving mother earth and I started my new journey with the green planet. I was very happy with my work and I fulfilled all my dreams. During my journey I faced many challenges on my way sometimes I felt like I should give up but my mindset was to achieve success in life.
Entrepreneurs have a mindset that sees the possibilities rather than the problems created by change.
Green planet products and management gave me confidence and support to work with all Indian farmers. By working with the green planet I started achieving many things in life. Now I have 2 cars, 2 offices, and staff for the business development.
I had one dream to go on a foreign tour and the green planet made my dream come true I just not visited one country but Thailand, France, Switzerland, and many more. Always keep one thing in mind if you can dream it, u can do it. Today I am working in many states of India (Bihar, Jharkhand, Madhya Pradesh, Maharashtra, and Karnataka) and worked with thousands of farmers in India. In the upcoming 5yrs, I have taken a challenge to make 1000+ people financially free .just like a potter this company has molded me into a confident human being just not me but many peoples in India. With the help of Green Planet, I achieve top recognition in the company and now I am a ruby star and tried to achieve them all. Everyone has the ability to achieve success but the thing that you need is proper guidance and a clear focus on your goal. Success starts with your attitude. Attitude determines your thoughts. Thoughts create your routines and routinely determine what daily actions you take your action determine your "SUCCESS". Last but not least success in on your u just has to follow. It is just the beginning the best is yet to come so be ready with the best mindset.
Thank you!!!!