INTRODUCTION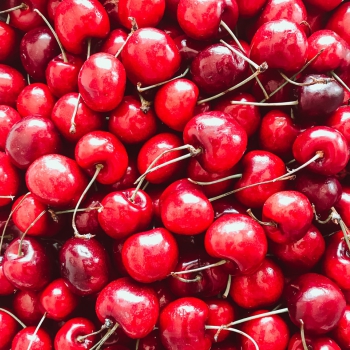 Rosaceae is a family that includes cherries.
The majority of sweet cherries are self-fertile and require pollination from another plant.
Cherries are high in fiber, vitamins, and minerals such as potassium, calcium, vitamin A, and folic acid, among others.
Prunus avium and Prunus cerasus varieties are used to make commercial cherry.
REQUIREMENTS
• Soil- The ideal soil for cherries would be reasonably fertile but also deep, especially where the ground is dry.
• pH- 5.5 to 7
• Temperature- •Cherry grows best in temperatures between 5-7º C.
IRRIGATION
It's critical to water cherry trees adequately the first year after they've been planted.
In The first week, they should be watered deeply every other day; the second week, they can be irrigated thoroughly 2-3 times; and after the second week, they can be watered deeply 2-3 times.
For the balance of the first season, water cherry trees thoroughly once a week.
Cherry trees that have been established for a long time don't require much watering.
Your cherry trees should be getting enough water if you get at least an inch (2.5 cm) of rain every ten days in your area.
In times of drought, though, it is critical to provide them with more water.
CULTIVATION
The best period to plant cherries is between December and January, and this fruit is grown primarily in steep places with sloppy soil.
The rootstock selected determines the plant spacing. Plants raised from seedlings, on the other hand, should be spaced 6 x 6 metres apart.
Fill a small container with planting media and two to three trenches, then water the seeds in.
When the cherry seedlings have grown to a height of two inches (5cm).
Indoors, keep the seedlings in bright locations.