INTRODUCTION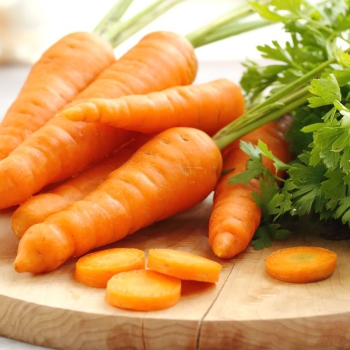 Carrot is a member of the family Apiaceae.
Carrot is one of the most important root vegetables.
It is a rich source of alpha and beta carotene.
Uttarpradesh has maximum production, Bihar has the highest area of carrots in India.
It is a biennial plant.
REQUIREMENTS
• Soil- Carrot required deep, loose loamy soils.
• pH- pH of the soil should be in the range of 5.5 to 7 (a pH of 6.5 is ideal for good yield).
• Temperature- Carrots grow best in temperatures between 16°-20°C.
• Climate- Cold weather crop, and it also does well in warm climates.
IRRIGATION
Applying first irrigation after sowing will aid in germination.

Irrigation should be done every five days.

Apply remaining irrigations at intervals of 6-7 days in summer and 10-12 days in winter, depending on soil type and climate.

Carrots required 3-4 irrigations in total.

Stop irrigation 2-3 weeks before harvesting to help the carrots become sweeter and more flavorful.

Beds should be covered with moist gunny bags after irrigation in the evening.
CULTIVATION
Prior to planting, thoroughly water the area.

4 seeds per 2cm, direct sow the small seeds 5mm (14") deep.

Carrots are harvested in August in the plains.
Spacing
Rows are indicated with a 25-to-30-centimeter space between them. Seeds should be blended with sand at a ratio of one part seed to four parts sand.

Hills should be thinned to a depth of 10cm between plants.
Plains: The distance between plants should be 5cm.