INTRODUCTION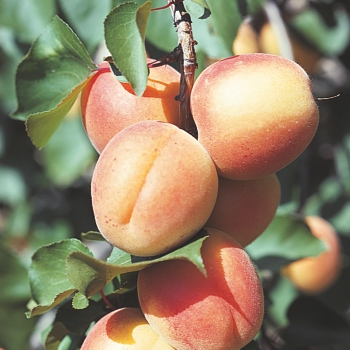 Apricot is a popular fruit in India's arid temperate and moderate highland areas.

In India, this fruit belongs to the Rosaceae family and the genus Prunus.

In the hills of Shimla and Himachal Pradesh, this fruit grows wild.

When compared to other fruits, apricots are high in vitamin A and niacin.

Apricots are used in jams, and squash and they can also be dried and canned.

In India, commercial apricot growing is minimal.
REQUIREMENTS
Soil- well-drained deep soils with good organic matter.
pH- 6.0 to 6.8.
Temperature- 0° to 8°C.
Climate- Long cool winters with frost-free conditions and warm springs.
IRRIGATION
Apricots require irrigation, particularly during the fruit growth stage in April and May.

Irrigation frequency is determined by soil type, tree age, and weather conditions.

Irrigation should be given every 8 to 10 days under extremely hot and dry conditions (May to June).

Because these trees are sensitive to waterlogging, the soil should be emptied off in the event of severe rainfall.
CULTIVATION
The apricot plants are planted during the dormant season i.e. end of December to February, but early planting gives better establishment of plants.
Undesirable trees and shrubs should be removed from the land during its initial preparations by digging and ploughing.
On the flat land, a regular planting layout system such as square and triangular is followed, while on the hill slopes, contour system is generally practiced
The spacing of plants varies with the soil, climate and vigour of variety and rootstocks.
The plants are generally planted at a spacing of 6mx6m
The pits of 1x1x1m dimension are dug about a month before planting.