INTRODUCTION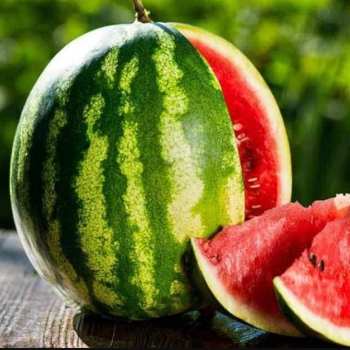 Citrullus lanatus is the scientific name of watermelon.

Watermelon is a member of the "cucurbitaceae" family and the "citrullus" genus.

Depending on the cultivater, the fruit can weigh anywhere from 2 to 15 kilogrammes.

Mostly grown in sub-tropical and desert climates.
REQUIREMENTS
• SOIL - Sandy loam is rich in organic matter.
• pH - 6.5-7.5.
• TEMPERATURE- 25° to 30°C.
• CLIMATE- Warm climate.
• SOWING MONTH- North Indian plains - February-March, North-eastern and western- India - November to January
• DURATION - 122-135 DAYS (APPROX. 4 MONTHS)
IRRIGATION
From the plantation to the vegetative development, apply 13mm of water when the 15cm of the soil surface is dry (every five or six days in dry weather).

In dry weather, apply 19mm every five days from development to first bloom.

If this happens, you should eat on the plants before midday and increase the watering frequency.

In dry weather, apply 25 mm every four days from the first blossom through the harvest.

If the weather is exceptionally hot (above 35 ° C), it is recommended that the frequency be increased to three days to avoid water stress.
TREATMENT :
USE BHOOMI POWER 4KG PER ACRE
USE POWER PLANT PREMIUM 2-3ml PER LITRE OF WATER
CULTIVATION
The optimum time to plant watermelon is in December, when the fruits will be ready for the summer season.

A pair of crosswise ploughings should be used to prepare the land to a fine tilth stage.

The field should be leveled and any weeds from past crops should be removed.

Seeds should be steeped in lukewarm water for 12 to 15 hours before sowing.

The seeds should be maintained in damp gunny bags overnight after draining the water.

This treatment increases the percentage of seeds that germinate.

In most cases, 3 to 4 kg of seeds are needed to sow a hectare of land.

Depending on the season and growing system, many seedling systems have been used.