INTRODUCTION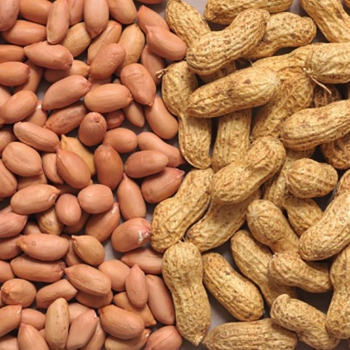 Arachis hypogaea are the scientific name for groundnut, which belongs to the Fabaceae family.
Groundnut is a valuable crop that can be grown as a floor crop in a coconut garden as a catch crop after the second crop paddy is irrigated.
Stones and clay should not be present in groundnut farming soil, as this would reduce yield.
Groundnut farming is not ideal for high altitudes, cold, or frost.
Groundnuts thrive in climates with long periods of warm weather.
REQUIREMENTS
• Soil- Sandy loam or clay loam soil.
• Cultivation- Preparatory cultivation.
• pH- 6.0- 6.5
• Temperature- Vegetative growth=26 to 30 ºC depending on the cultivar, Reproduction growth=24-27 ºC.
• Rainfall- Annual rainfall between 450 to 1250 mm.
IRRIGATION
Irrigation schedules for summer groundnut have revealed that 11-12 irrigations are ideal.
After sowing, one irrigation at 0-10 days, one at 10-30 days, two at 30-50 days, three at 50-80 days, one at 80-90 days, two at 90-105 days, and one at 105-120 days has been determined to be the most effective.
Groundnut is drought-resilient in terms of life, but its pod output is greatly reduced if appropriate soil moisture is not maintained, especially during critical growth stages (flowering, pegging of pod development)
The potential evapotranspiration during the crop period, as well as the degree of soil cover, dictate the amount of water consumed by the crop.
The amount of water required peaks during flowering and continues until pod development.
CULTIVATION
The seeds are placed in the soil at a depth of 5-6 cm and lightly pressed to maintain the moisture in place for uniform and quick germination.

The soil temperature for sowing should be around 18ºC.
Under rain-fed conditions, the best row and plant spacing is 90 cm and 4-7 cm, respectively.
If the area is reliant on irrigation, the spacing between rows should be 30 to 35 cm.
In order to plant one hectare of land, 100 to 160 kg of seeds are necessary.
Seeds are used to propagate groundnuts. Only two weeks before planting, the seeds should be shelled.
Groundnut seeds are grown in a nursery before being transplanted to the main field, or they are sown directly in the main field.
Because the seeds are easily damaged, they must be handled with care.
Seeds that have been exposed to the sun for an extended period of time are also thought to have a low germination rate.