INTRODUCTION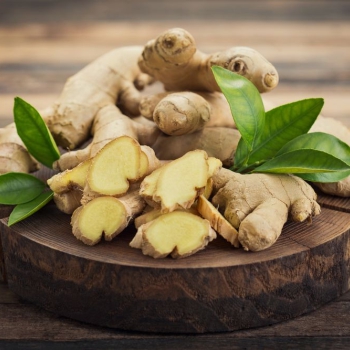 Ginger belongs to the Zingiberaceae family.

It is a perennial herbaceous plant that is a major spice crop around the world.
India is the world's greatest producer and exporter, accounting for more than 70 percent of global production.
REQUIREMENTS
• Soil- Ginger will grow optimally in loam soil that is high in organic matter and well-aerated soil.
• pH- 6.0 and 6.5
• Climate-  warm and humid weather.
• Temperature- The Plant requires a minimum temperature of 15.5°C.
• Rainfall- 1300-1500 mm of water during its crop cycle.
IRRIGATION
After planting, the first light irrigation is applied.

Irrigations are given every ten days.
There were a total of 16-18 irrigations.
One month before harvest, irrigation is turned off and the rhizome clumps are gently extracted with a spade or digging fork.
CULTIVATION
Ginger is grown as a rain-fed crop in places with high rainfall (uniform distribution for 5 to 7 months).
During its crop cycle, ginger requires 1300-1500 mm of water.
Weeding is done right before fertilizer application and mulching; depending on the severity of weed development, 2-3 hand weedings are required.
When there is water stagnation, proper drainage routes must be created.
Earthing up is necessary to prevent rhizome exposure and to provide appropriate soil volume for rhizome development.
It's done 45 and 90 days following planting, right after weeding and fertilizer application.
NUTRIENT DEFICIENCY
DEFICIENCY OF NITROGEN
´Yellowing that starts at the tip and moves along the centre of older leaves.
´
Defoliation and die back.
TREATMENT :                                                                                                                                                             
Use

NITROKING

2-3 ml per litre

of water

Use

SPALL90

0.5 ml per litre

of water
DEFICIENCY OF PHOSPHORUS
´Reduced growth of plant, restricted root development.
´
Irregular yellow areas appear first which may spread to the whole leaf producing mottled appearance.
´
Leaves may turn red or violet.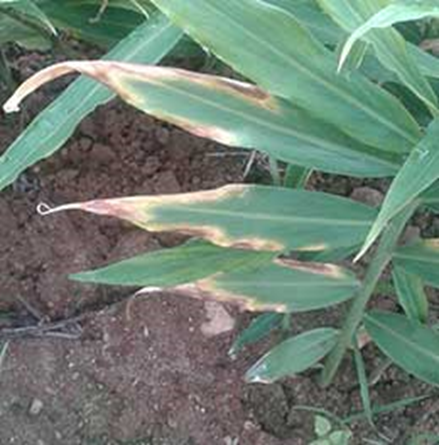 DEFICIENCY OF POTASSIUM
´
Necrosis or scorching of tip and margins in older leaves.
´
Defoliation and dieback under severe deficiency.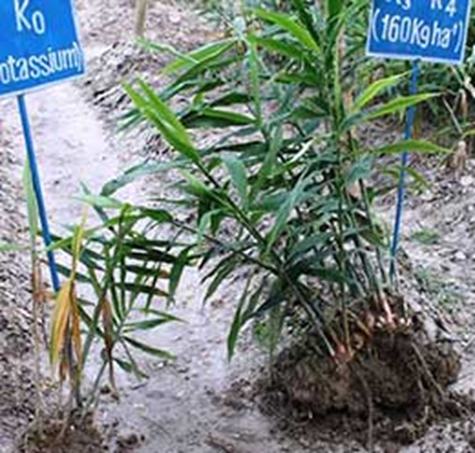 DEFICIENCY OF MAGNESIUM
´
In older leaves, large yellow areas appear in between lateral veins and in either side of the midribs.
´
Yellowing will gradually extend towards leaf margin.
´
Severe deficiency leads to dark, necrotic spot on leaf tip and heavy defoliation.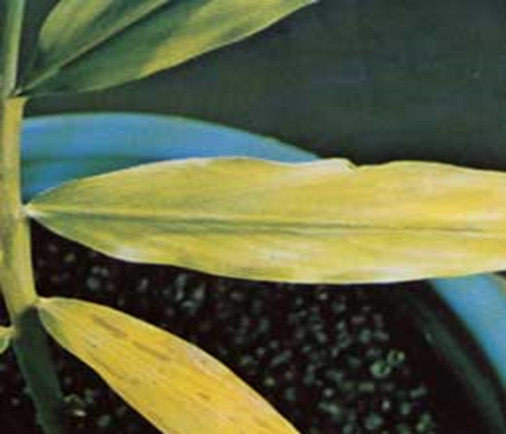 ´
Inhibition of bud growth.
´
young leaves abnormally green.
´
Leaf tips may stick together; curling/cupping of young leaves.
´
Stem structure weakened, premature shedding of fruit and buds.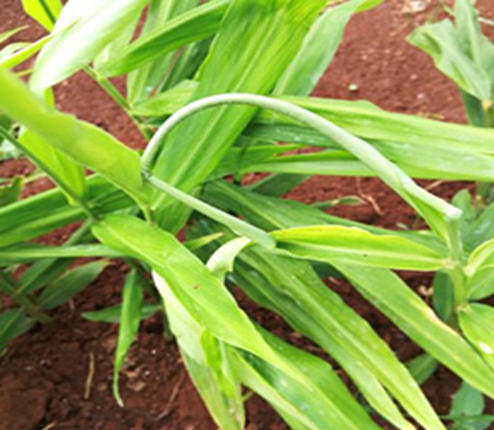 TREATMENT :
Use Calcium EDTA

0.5 per litre

of water

        

Use BLOOM

2 ml per litre

of water

         

Use SPALL90

0.5 ml per litre

of water

        
DEFICIENCY OF BORON
´
Young leaves smaller, irregular in shape, leathery texture and without chlorosis.
´
characteristic death of growing tip which turns black.
´
Development of lateral branches resulting in fan shaped structure.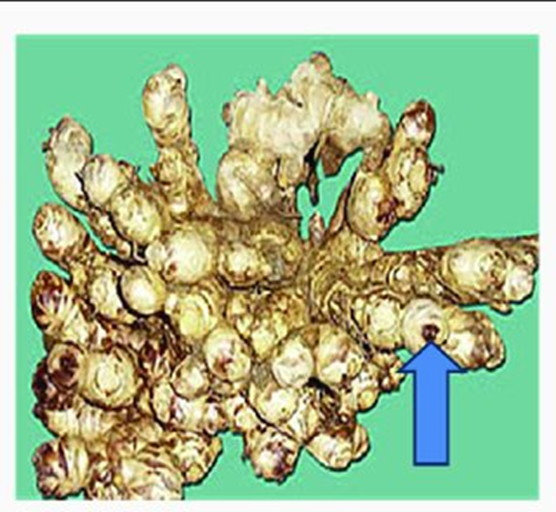 TREATMENT :
Use Calcium EDTA

0.5 per litre

of water

        

Use BLOOM

2 ml per litre

of water

         

Use SPALL90

0.5 ml per litre

of water

        
DISEASES
A. FUNGAL DISEASES:(i) CONTACT BASED
1. LEAF SPOT (Phyllosticta zingiberi)
TREATMENT :
Use PPFC

2-3 gm per litre

of water

  

Use SpAll90

0.5 ml per litre

of water

                
A. FUNGAL DISEASES:(i) CONTACT BASED
2. SHEATH BLIGHT/LEAF BLIGHT(Rhizoctonia solani)    
TREATMENT :
Use PPFC

2-3 gm per litre

of water

  

Use SpAll90

0.5 ml per litre

of water

                
A. FUNGAL DISEASES:(ii) SYSTEMIC BASED
1.SOFT ROT(Pythium aphanidermatum)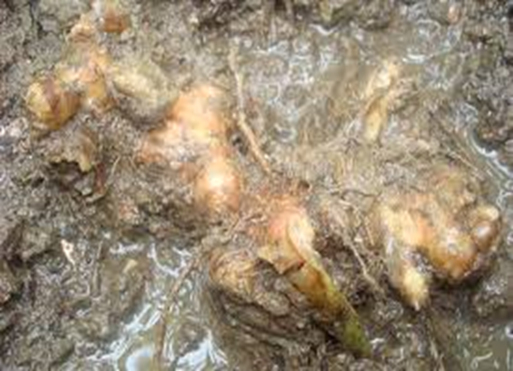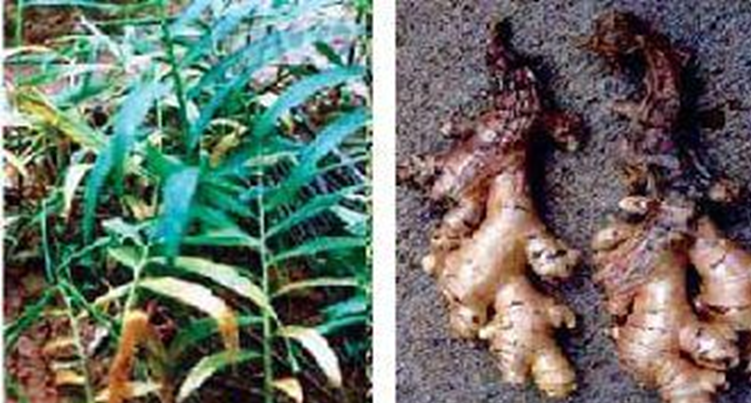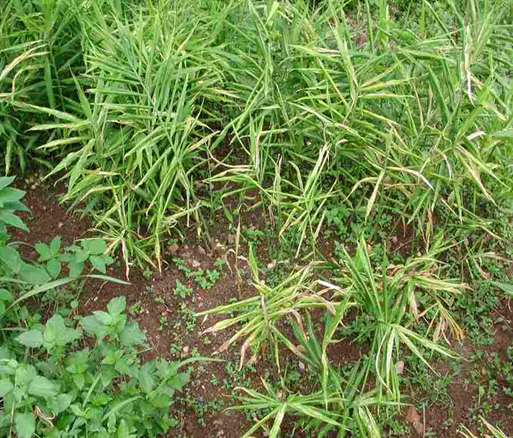 TREATMENT :
Use Fungohit

2-3ml per litre

of water

           

Use SpAll90

0.5 ml per litre

of water

           
A. FUNGAL DISEASES:(ii) SYSTEMIC BASED
2.FUSARIUM YELLOWS (Fusarium oxysporum)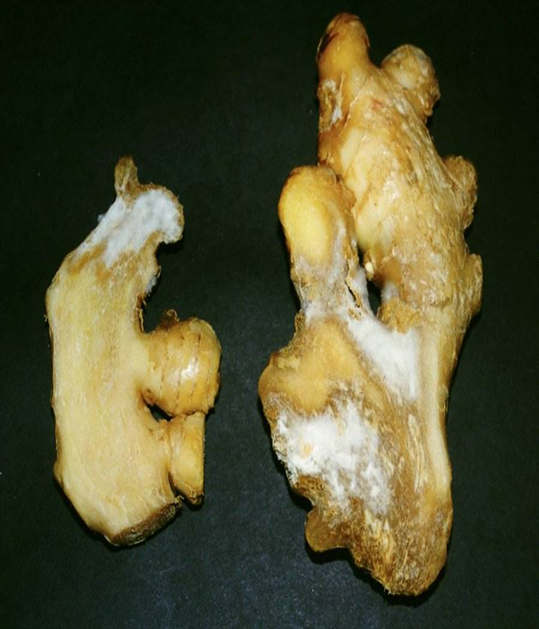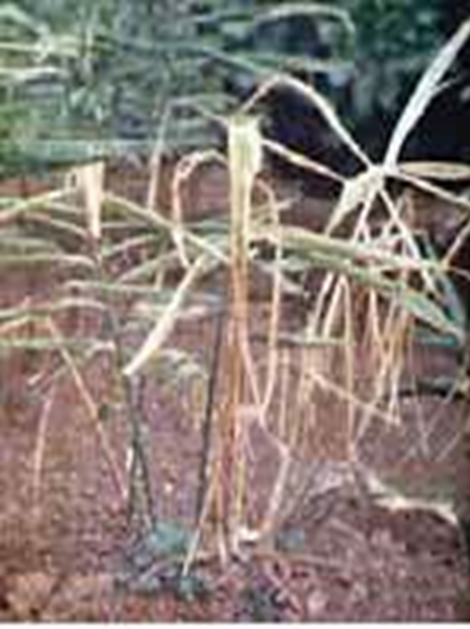 TREATMENT :
Use Fungohit

2-3ml per litre

of water

           

Use SpAll90

0.5 ml per litre

of water

           
A. FUNGAL DISEASES:(ii) SYSTEMIC BASED
3.DRY ROT (Fusarium sp.)
TREATMENT :
Use Fungohit

2-3ml per litre

of water

           

Use SpAll90

0.5 ml per litre

of water

           
B. VIRAL DISEASES
1. GINGER CHLOROTIC FLECK VIRUS
TREATMENT :
Use Virohit

2-3 ml per litre

of water

        

Use virosol

2-3 ml per litre

of water

          

Use PPNP

1 ml per litre

of water

        

Use SpAll90

0.5 ml per litre

of water