INTRODUCTION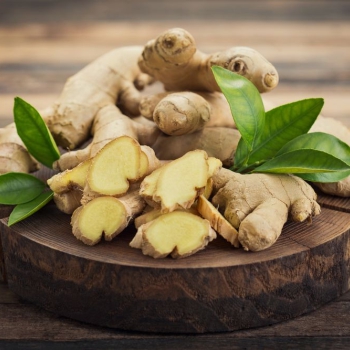 Ginger belongs to the Zingiberaceae family.

It is a perennial herbaceous plant that is a major spice crop around the world.
India is the world's greatest producer and exporter, accounting for more than 70 percent of global production.
REQUIREMENTS
• Soil- Ginger will grow optimally in loam soil that is high in organic matter and well-aerated soil.
• pH- 6.0 and 6.5
• Climate- warm and humid weather.
• Temperature- The Plant requires a minimum temperature of 15.5°C.
• Rainfall- 1300-1500 mm of water during its crop cycle.
IRRIGATION
After planting, the first light irrigation is applied.

Irrigations are given every ten days.
There were a total of 16-18 irrigations.
One month before harvest, irrigation is turned off and the rhizome clumps are gently extracted with a spade or digging fork.
CULTIVATION
Ginger is grown as a rain-fed crop in places with high rainfall (uniform distribution for 5 to 7 months).
During its crop cycle, ginger requires 1300-1500 mm of water.
Weeding is done right before fertilizer application and mulching; depending on the severity of weed development, 2-3 hand weedings are required.
When there is water stagnation, proper drainage routes must be created.
Earthing up is necessary to prevent rhizome exposure and to provide appropriate soil volume for rhizome development.
It's done 45 and 90 days following planting, right after weeding and fertilizer application.